El Camino Health has become the first organization in the world to adopt a new technology created by Canadian company Flosonics Medical to boost care for patients suffering from sepsis and similar conditions.
The new addition to their tool kit is the FloPatch, a piece of ultrasound equipment that live-monitors blood flow and is meant to assist with managing IV therapy.
"Our nurses have seen firsthand how effective FloPatch is in monitoring the effectiveness of treatment in deteriorating patients," said Cheryl Reinking, chief nursing officer at El Camino Health, in a release, adding, "—especially those with sepsis and low blood pressure."
The U.S. Food and Drug Administration-approved device provides a simple way to measure changes in how the heart is performing, hospital officials said, explaining it works by checking on blood flow in the carotid arteries, the pathways to the brain, neck and face.
"Timing is crucial when caring for patients with sepsis," Reinking said. "We are proud to be the first hospital in the world to adopt this advanced technology, and have been working with Fogarty Innovation and Flosonics Medical for the past year piloting FloPatch. Our nurses immediately loved it, and helped decide where in the hospital the technology would be the best fit."
'It is a new paradigm'

—Dr. Jon-Emile Kenny, chief medical officer, Flosonics Medical
One recent study showed that up to half of patients may avoid potentially dangerous fluid overloading in emergency departments when the FloPatch is used.
"We're thrilled to partner with El Camino Health to launch this pioneering ultrasound technology," said Dr. Jon-Emile Kenny, chief medical officer at Flosonics Medical. "FloPatch is more than an innovative ultrasound system, it is a new paradigm linking physiology and resuscitation medicine."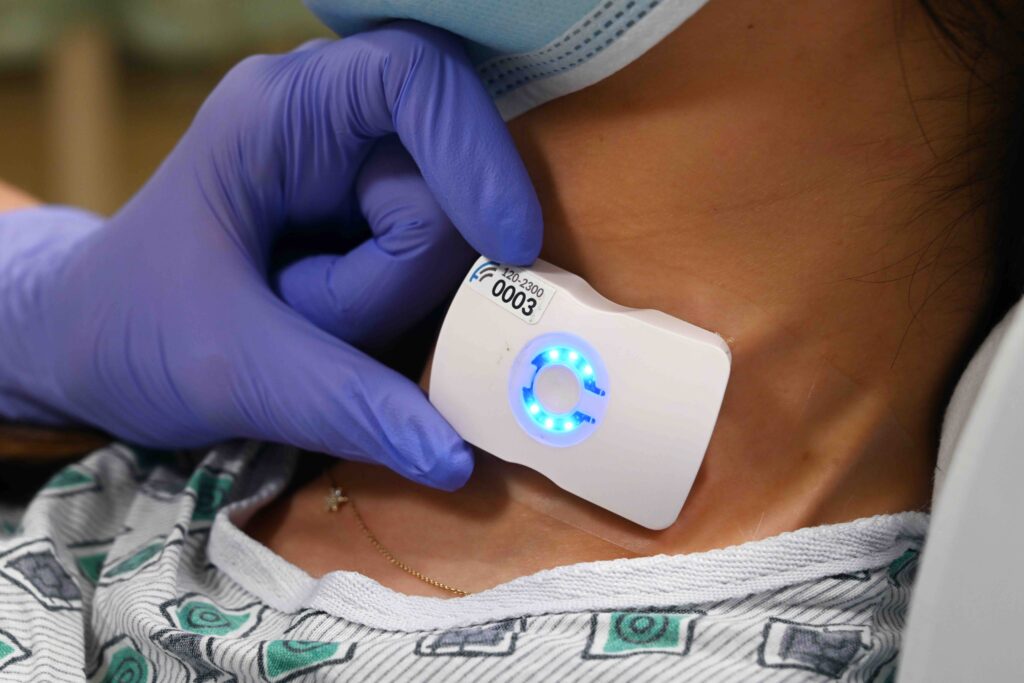 Flosonics was first introduced to El Camino Health by Fogarty Innovation, a non-profit medical technology accelerator located on the hospital's Mountain View campus.
It participated in FI's Company Accelerator Program, a six-month mentoring program.
The Flosonics team worked directly with clinicians at El Camino Health to get a better understanding of the patient journey and determine the best clinical use for their groundbreaking technology.
"Through this process, the Flosonics team focused on the unmet clinical need of more efficiently managing fluids in critically ill patients, bringing forward a product that streamlines a clinician's workflow and will ultimately help patients around the world," an El Camino Health spokesperson said.
Flosonics Medical is a Canadian medical device company founded in 2015 that's focused on researching and development of innovative ultrasound technology.