The iconic La Cañada building on the corner of West Main Street and North Santa Cruz Avenue, with its circular bay window and signature "witches hat" turret, has been a prominent feature of our historic downtown business district almost since the day it was built.
It's been photographed, sketched, and painted countless times, and is so well recognized that our Chamber of Commerce even uses a symbol of the tower as its logo. Yet the history of the building, and the story of the man who built it, have largely been forgotten. 
The property was originally developed by a Dutch immigrant named Sake Althoons Hofstra who was born in Friesland, The Netherlands in 1830 and emigrated to the United States at age 24. He settled in Michigan where he spent most of his life, with the exception of an unusual five-year period from 1892 to 1897 when he relocated to San Jose for unknown reasons.
Perhaps sensing the opportunity for investment in the rapidly growing town of Los Gatos, he purchased land here on North Santa Cruz Avenue and arranged for local contractor C.F. Seamen to construct a brick building at a cost not to exceed $4,575 (about $118,000 today). He named his project the "Hofstra Block."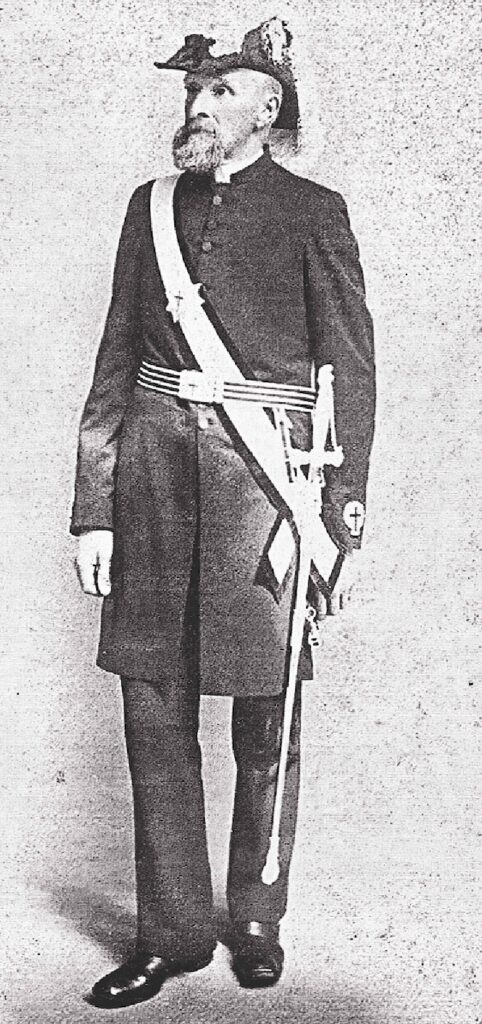 Hofstra's namesake property consists of three adjoining brick buildings that were constructed in two separate phases on a single assessor's parcel between 1895 and 1905. If you look closely at the photograph, you'll notice that the middle building originally had only one story. You can also see the faint Hofstra Block lettering on the left parapet.
Shortly after the project was completed, Sake's name appeared in newspapers all over the state. Much to his chagrin, he had fallen victim to a group known as the "gold brick swindlers." Hofstra paid $10,000 cash for what he thought were two large gold bars that turned out to be made of brass. He never recovered his money, but was instrumental in landing the crooks in prison. He told police that he was such an easy victim he thought he must have been hypnotized.
When Sake died of heart disease in San Jose in 1897, he left the Hofstra Block to his daughter Irene Wilhelmina Hofstra Markres who sold the building shortly thereafter. Interestingly, Sake's son William, who became quite wealthy in the lumber and paper business, built an opulent country home in Hempstead, Long Island, New York. The sprawling 15-acre estate, which he called "The Netherlands," eventually became the campus of Hofstra University.
The Hofstra Block traded owners over the years, one of whom changed the name to La Cañada, Spanish for "canyon." It's currently owned by the Farwell and Bacigalupi families who restored the building after it suffered extensive damage in the Loma Prieta earthquake. Although his name has long since been erased from the façade, Sake Hofstra would be proud to see that his building has been added to the National Register of Historic Places.
Content and photos from "Discover LOST Gatos" historical walking tours by Alan Feinberg, Peggy Conaway-Bergtold and Sandy Decker. Download the free mobile app from the Apple App Store or Google Play.