Pharmacy and discount grocery store Rite Aid is closing its Los Gatos Boulevard location.
A spokesperson for the corporation told the Los Gatan the last day it will be open to the public will be May 4.
"A decision to close a store is one we take very seriously and is based on a variety of factors including business strategy, lease and rent considerations, local business conditions and viability, and store performance," said Terri Hickey, director of public relations. "We review every neighborhood to ensure our customers will have access to health services—be it at Rite Aid or a nearby pharmacy—and we work to seamlessly transfer their prescriptions so there is no disruption of services."
Facing retail headwinds, the company decided to close 145 stores between last fall and June of this year. Rite Aid is working to accommodate current employees by finding them shifts at other nearby stores, the spokesperson added.
"As a full-service pharmacy company, we look forward to expanding in new ways to new markets to serve the needs of our customers," she said.
Outside Rite Aid #05972, at 15920 Los Gatos Blvd., Tuesday morning, Los Gatos resident Lisa Sgarlato said she was disappointed to learn the news.
"I'm just bummed," she said. "I used to come here when it was Thrifty's."
Back in the day you could get a scoop of ice cream for five cents, she recalled.
"I use this for my pharmacy," she said. "I've been coming here for years."
When she found out the store was shuttering, she took quick action.
"I scooped the deals," she said, adding she found prices between 50 and 70% off the original sticker price.
Beth Albers, 53, of Los Gatos said she, too, has come to rely on the location.
"This is my go-to pharmacy," she said. "Now I have to find a new pharmacy."
She can't help but wonder what might come along to fill the retail void.
As an Etsy shop owner, she says she hopes it will become a Michaels, so she doesn't have to go all the way to San Jose for arts and craft supplies.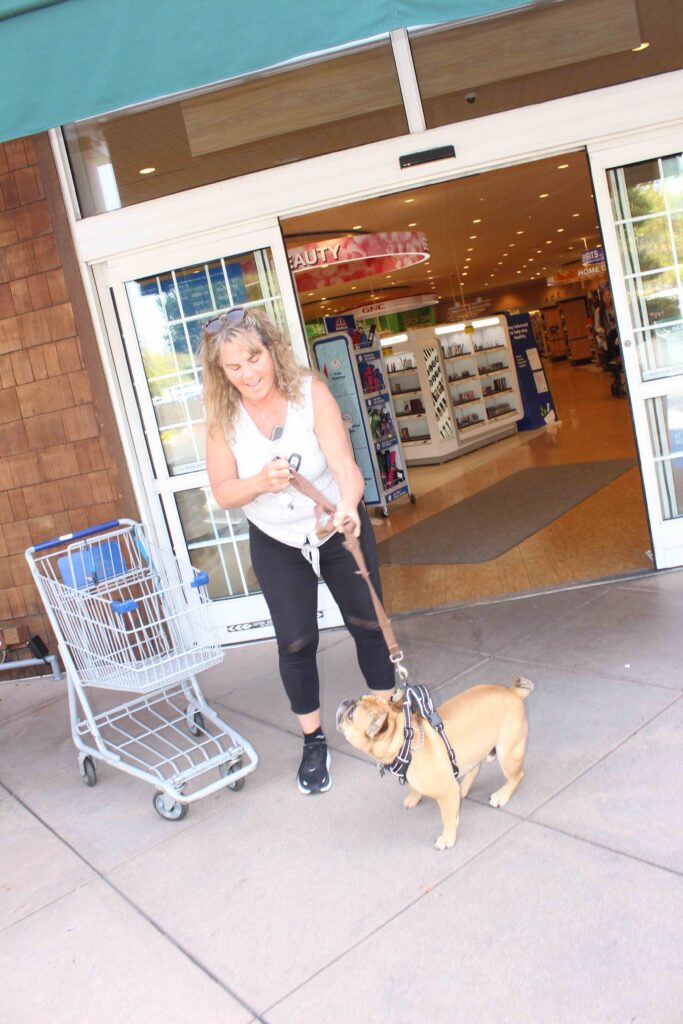 Henry, her French bulldog, didn't seem to mind too much about the impending vacancy, as he waddled his way through the automatic doors.
Rite Aid is currently under fire in court from design company House Industries, which claims the pharmacy illegally used its font when it updated its branding.
Last week, New Yorkers protested the planned closure of a Rite Aid in Queens.
In a recent regulatory filing, Rite Aid said its profits this year will depend, in part, on how many people get Covid-19 shots.
A supervisor named Linda said the staff aren't happy about the corporation's decision to shut the Los Gatos location down.
"We're all very, very sad," she said. "Very sad, and overwhelmed."
She didn't want to give her last name as she was not permitted to speak on behalf of the company about the situation.
The employee said she worked at this store for eight years, before transferring to another one for six years, before returning in November.
"We only got a two-week notice," she said, adding the workers were still awaiting additional information about their future.
A manager named Andrew said he's been prepping staff for the May 4 closure. He told a customer the store still has to go over more legal paperwork before everything is finalized.
Mike Angell, 47, of Santa Cruz had never been to the location in his life before Tuesday.
Since he works in the area he thought he might as well have a look at the sales.
"I heard there were a couple deals," he said, adding he managed to score half-price toilet paper and other essentials. "I did pretty good."