A Los Gatos mother-son duo have created an online marketplace they hope will encourage residents to give to people in need.
The Giving Porch, founded by Los Gatos High School senior Arjun Seshadri and his mother Sruba, is designed to promote giving among businesses and individuals in the Los Gatos community, Sruba said.
Businesses and residents can sign up for a free account on thegivingporch.com, where they can post services and items available to the public, pro bono.
The marketplace could not only be a place for material items, such as furniture, clothes, flowers and more, but also a place where individuals can donate their time.
Seshadri said someone could offer to spend time with a senior living alone, provide home repair, computer assistance and more.
On cold nights, she cited as an example, the marketplace can provide an outlet for someone to donate warm coats and blankets to those in need.
"The Giving Porch is a marketplace which is only about giving," she said. "Any local business or individual who wants to give is welcome to post here. The goal of The Giving Porch is to promote giving and helping people in our community who are going through rough times due to Covid or just difficult times."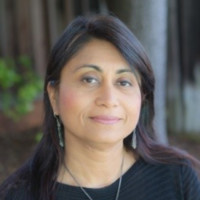 Users can also follow businesses of their choice to receive email notifications each time that business posts a new listing.
The Giving Porch was made possible thanks to the Innovation Grant the Seshadris received in 2020 from the Town of Los Gatos. The grants were available to Los Gatos residents with ideas on how to improve their community.
Seshadri said The Giving Porch already has a local nursing home interested in participating, as she works to spread the word of the new marketplace. The Giving Porch will also be present at the Los Gatos Chamber of Commerce's mixer at Campo di Bocce, 115 N. Santa Cruz Ave., on Feb. 16 at 5:30pm.
"We hope that in the future, The Giving Porch will be an embodiment of our Los Gatos community which is known for giving and kindness to all," Seshadri said.
The Giving Porch is now live. To create an account, visit thegivingporch.com.